Latest News and projects at gaddum

Get running for gaddum
Click the image below for more information

B
ury Carers Centre-UPDATE
Please see attached update in the downloadable document below:
01.11.18 Bury Statement Update
Identifying and supporting carers in crisis-project in Salford
Read the news article by Salford Royal and our Salford Carers Service HERE
Did you know you can shop and support gaddum?
Manchester Carers Network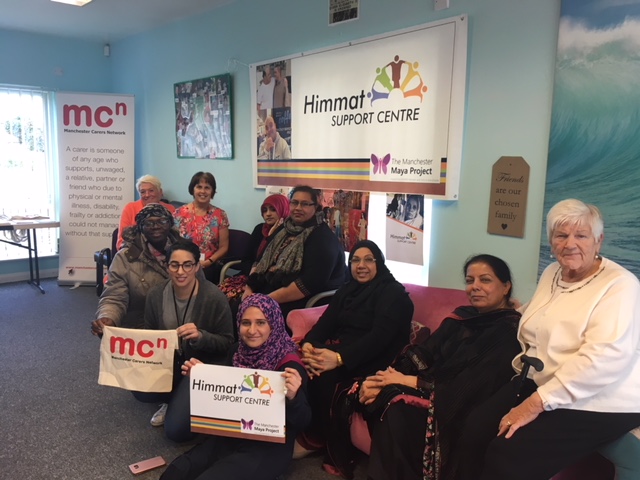 The Manchester Carers Network is made up of 21 organisations across the city who support unpaid carers. A carer is someone of any age who supports, unwaged, a relative, partner or friend who due to physical or mental illness, disability, frailty or addiction could not manage without that support
Our network provides information, advice and support and a big part of what we do is the development and delivery of a training programme for Manchester carers. Through practical workshops we train carers in a variety of topics such as first aid, moving and handling, mindfulness and cookery, all of these workshops are all free of charge and are run by experienced professional trainers – "brilliant speaker, very informative" (feedback from a carer)
Over the last few months we have been working closely with our 21 network members to host the workshops and we're really pleased that some of the organisations who hadn't previously hosted a workshop have recently gotten involved. To name but a few we've had a cookery workshop at the Indian Senior Citizens Centre in Whalley Range, an evening course at Together Dementia Support in Chorlton which one of our carers called "a wonderful, informative evening" and we have a healthy eating workshop coming up at Neesa Well Women in Cheetham Hill
As well as within our own network, we've been busy making links with some of the local community organisations around the city. Northmoor and Barlow Moor community associations are both now working with us and we are also piloting a new approach in north Manchester working with GPs, social work teams and the hospital to identify and train carers. In addition we are also developing an 'introduction to caring' workshop with LMCP Care Link in Moss Side helping new carers get the right support they need from the start
The work that we have been doing over the last few months has really started to pay off and in the last two months we've seen a big increase in the numbers of carers booking onto courses. This is something we're really happy about because it means we are getting through to more carers to provide them with support, information and advice. "Excellent and well delivered. So appropriate for my husband's needs" – carer from one of our workshops
Come and speak to us to find out more, have a look on our website or check us out on social media:
facebook.com/manchestercarersnetwork
twitter.com/carers_HUB
Or subscribe to our monthly e-newsletter – find the link on our website homepage:
www.manchestercarersnetwork.org.uk
Other news….
There is always something we are developing at gaddum. Here is our latest update:
LGBT carers-be heard!
Manchester Carers Network, a group of 21 voluntary organisations who provide information, advice and support to carers, is working with LGBT Foundation, who deliver support and information services to lesbian, gay, bisexual and trans (LGBT) communities, with an aim of understanding the views of LGBT carers and learning how they can help improve access to services, support and information that is relevant and beneficial to them as a carer
A carer is anyone who cares, unwaged, for a friend or family member who due to illness, disability, a mental health problem or an addiction cannot cope without their support. Together we are looking for views from LGBT carers or services providing support across Manchester. They want you to tell them if you think anything extra is needed for LGBT Carers besides what is currently offered by existing health, social care and LGBT services.
For further information, email Sam Palmer  or visit manchestercarersnetwork.org.uk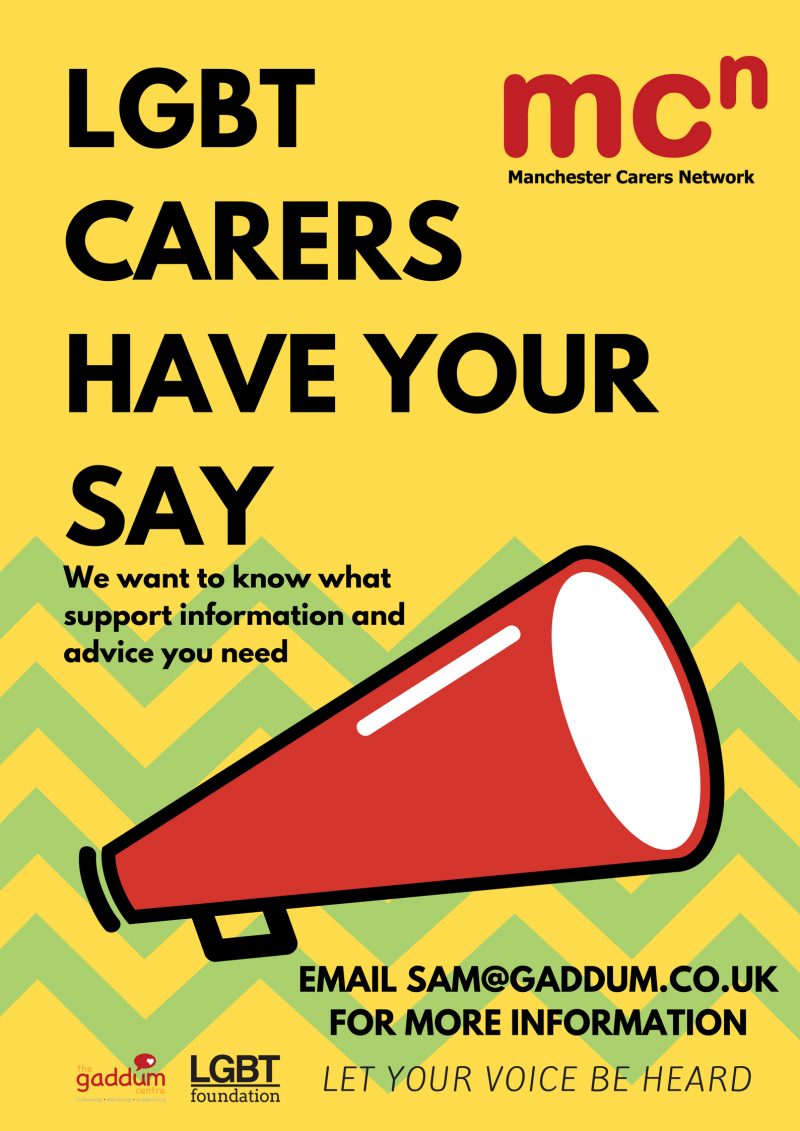 For PR/Media enquiries, please contact Charlotte Brown, PR & Comms Lead  
For general information, please contact gaddum on 0161 834 6069 or by emailing here