Latest News and projects at Gaddum
Investing in People


Greater Manchester charity, Gaddum is pleased to announce that they have received Investors in People accreditation (IIP).
Gaddum is one of the leading voluntary, community and social enterprise sector organisation for advocacy, carers and therapy services and expertise across Greater Manchester and beyond; by empowering people and enhancing lives through providing high quality, person centred services, and responding to individual needs.
Investors in People is the most successful framework for business improvement through people in the UK. By achieving their accreditation, Gaddum joins an exclusive group of UK employers eligible to use and display the sought-after Investors in People logo and plaque.
This standard defines what it takes to lead, support and manage people well for sustainable results. With a community of 14,000 organisations across 75 countries, successful accreditation against the Standard is the sign of a great employer, an outperforming place to work and a clear commitment to sustained success.
Lynne Stafford, Chief Executive, Gaddum comments;
''It is wonderful news that Gaddum has been accredited with Investors in People. As a health and wellbeing charity, it is essential that we aim for continual improvement of our colleagues and the wider community. This is an exciting time for our charity and a huge achievement for our team"  
Jo Lever, Investors in People Specialist, said:
"We are very pleased for Gaddum who have achieved the Investors in People accreditation, which recognises good performance achieved through integrated people practices. Through effective leadership, Lynne and her Senior Management Team have created an open and collaborative environment for people and are continually seeking to improve on their current practises. They should be proud of their achievement."
That's TV
We were recently on That's TV Manchester! This was to promote our the work of Manchester Carers Network.
Take a look HERE
ITV- Ross Kemp Living with series,
episode 2-young carers
Greater Manchester charity, Gaddum is pleased to announce that their work with young carers in Salford (Greater Manchester) was shared to millions of viewers on ITV at 7.30pm this Thursday 1 August as part of a new series, Ross Kemp-Living with…
Ross Kemp-Living with…. Is a brand new four-part series on ITV, STV and UTV, in which he travels across the country to meet people living with some of the biggest issues affecting Britain today, including immersing himself in situations to gain a firsthand taste of the difficulties they face and highlight what is really going on, often unnoticed, under the nose of mainstream society. The second episode of this series is about the hidden crisis of young carers. It's
believed that as many as 800,000 people under the age of 18 care for sick parents or siblings: one in 20 children in Britain.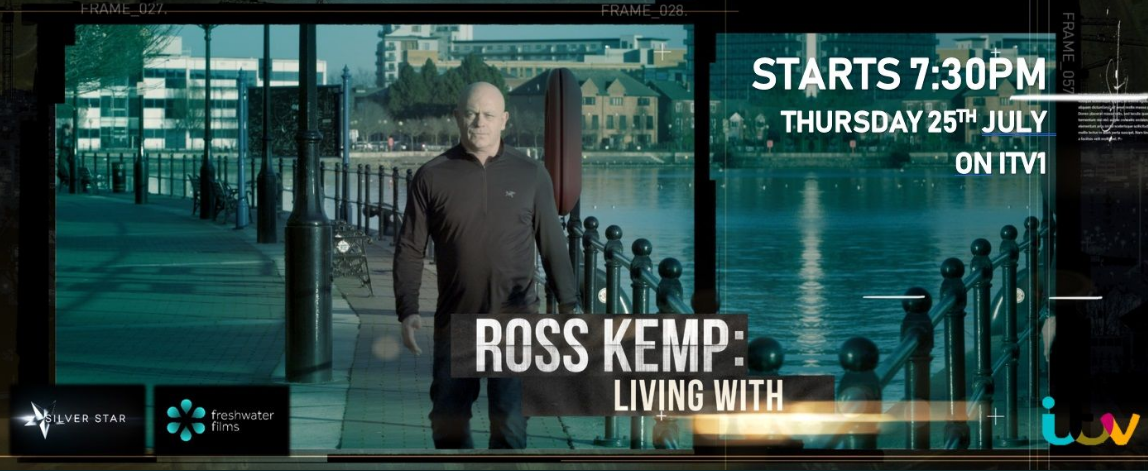 To find out full information, please download our press release here: FINAL PRESS RELEASE Ross Kemp, Gaddum 2019
Who Cares? -National TOUR ANNOUNCEMENT
Our documentary play about the lives of hidden young carers from Salford is headed around the UK in June 2019. Download the press release HERE.

Mood/Music project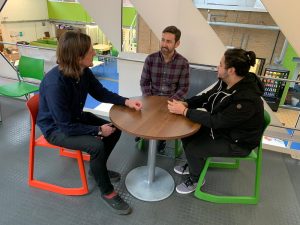 We are delighted to announce a project in partnership with Manchester Metropolitan University and Gaddum. Click here for more information
Carers Breakfast in Salford
As the Salford Carers Service regular carers breakfast landed on Valentine's Day, we decided to run a Carers Speed Friendship Networking event. Carers can come along to meet other Carers and find out more about each other in the hope of forming friendships over a brew and light breakfast.
All Carers and staff had 7 minutes to ask each other questions about them and their interests or hobbies and to have a chat one to one, before moving onto another person and doing the same. Once everyone had spoken with each other, everyone came together as a group and shared with the group what we had learned about each other.
This event turned out to be very successful, with lots of laughter. At the beginning, some Carers appeared quiet, yet during the one to one's everyone was participating and enjoying themselves. By asking questions about the person and their interests, this led to positive conversations which created a positive and happy atmosphere.
By the staff also participating, they managed to pick up on Carers interests and passions which enabled them to link the Carers into events, trips, outings and courses that Salford Carers Service are running, as well as signposting to other services and giving them information leaflets relevant to them.
"It is so nice to have another person bring me tea and toast, it is normally me doing it for the people I care for and sometimes I don't even get to eat breakfast"
"I had a tough morning with the person I care for and now I am leaving feeling happy, thank you"
"It feels so good to have a giggle and meet new people, I will definitely be back and I am looking forward to it"
Find out more about our services for Carers in Salford by contacting the team.
Did you know you can shop and support Gaddum?
Manchester Carers Network- Carers lunch at Manchester City FC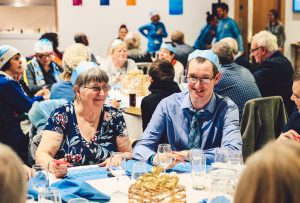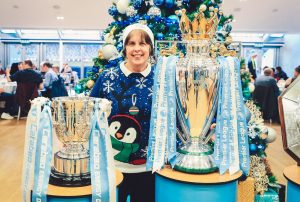 In December carers from across Manchester Carers Network were invited along with the person they look after to a Christmas lunch at the City Football Academy. Over 50 attendees were hosted by club and City in the Community Representatives to share in the festive fun.
Academy players Tommy Doyle, Esme Morgan, Jess Parks, Sammy Robinson and Tyreke Wilson were on hand to help serve up a wonderful three-course Christmas meal. Live music was played throughout the afternoon, with local singer Oli Ng catering for the numerous song requests that were sent his way, leading to a few spontaneous singalongs.
Following lunch the carers and their cared-for took part in a City-themed Centurions bingo. Competition was fierce with eventual winners being presented with City prizes.
Speaking on the event, Lynne Stafford, Chief Executive, Gaddum said: "this event provided much needed respite to many of our unwaged carers in East Manchester. We are incredibly grateful to the Manchester City family for hosting this event".
To find out more about the network, have a look on our website or check us out on social media:
facebook.com/manchestercarersnetwork
twitter.com/carers_HUB
Or subscribe to our monthly e-newsletter – find the link on our website homepage:
www.manchestercarersnetwork.org.uk
Other news….
There is always something we are developing at Gaddum. Here is our latest update:
LGBT carers-be heard!
Manchester Carers Network, a group of 21 voluntary organisations who provide information, advice and support to carers, is working with LGBT Foundation, who deliver support and information services to lesbian, gay, bisexual and trans (LGBT) communities, with an aim of understanding the views of LGBT carers and learning how they can help improve access to services, support and information that is relevant and beneficial to them as a carer'
A carer is anyone who cares, unwaged, for a friend or family member who due to illness, disability, a mental health problem or an addiction cannot cope without their support. Together we are looking for views from LGBT carers or services providing support across Manchester. They want you to tell them if you think anything extra is needed for LGBT Carers besides what is currently offered by existing health, social care and LGBT services.
For further information, email Sam Palmer  or visit manchestercarersnetwork.org.uk
For PR/Media enquiries, please contact Charlotte Brown, PR & Comms Lead. 
For general information, please contact Gaddum on 0161 834 6069 or by emailing here.