Latest News and projects at Gaddum
We're Moving!
We are delighted to announce that on Friday 17 November we'll be moving our offices from Gaddum House on Great Jackson Street to a new location in Manchester. All our staff will be working remotely for the time being and then on to brand new office spaces (exact location and date to be confirmed).
All our Advocacy, Carers and Therapy services will still be available from this time. To contact us by phone please call 0161 834 6069 or email info@gaddum.org.uk.
Watch this space for more details of our new location.
Youth Mental Health Day
It was Youth Mental Health Day on Tuesday 7 September 2021 and we've put together some resources and information to help young people and their mental health as below. Whether you are a young carer or not, it's important to have your voice heard in these difficult times.
Kooth is a service for young people which offers emotional and mental health support for children and young people aged between 11-24 years and is available up to 10pm every day.
Childline has lots of useful resources including a toolbox with videos, mood journals, games and a calm zone.
Young Minds is the UK's leading charity fighting for children and young people's mental health. Their website has lots of information and support for young people and parents.
Mind has lots of useful information on their website for children and young people aged 11 – 18.
For more information on Shine, our service for young carers in Salford and Manchester call
0161 834 6069 or email shine@gaddum.org.uk.
Gaddum – a brief 180 years of history 
We've just updated our guide to the history of Gaddum. You can find out more about the history of the charity and how we came to be who we are today, including our social and economic roots, links to the community of Manchester and the people who shaped us.
Shining a light on young carers since June 2020
In June 2021, our Shine project for young carers in Salford and Manchester turned one year old. Over the past year we have supported over 70 young carers with weekly support groups, comic art, book and games clubs, mindfulness sessions, gratitude groups and more. We have also made connections with schools and built strong partnerships with Early Help teams, ensuring the voices of young carers are always heard and the right support is given.
Moving forward into year two, we hope to work in the North Manchester area so we will cover the whole of Manchester, and identify young carers from black, Asian and ethnic minority communities. We also want to increase the identity of young carers, host Covid-19 safe face to face sessions, deliver carer awareness training, develop a young carers toolkit for places of education in Manchester and Salford, and run young carer led groups.
To find out more information about the project or if you want to find out about the referral process you can get in touch with us at shine@gaddum.org.uk.
Shine Young Carers Targeted Support Year 1
Loneliness Awareness Week
Loneliness Awareness Week took place from 14 – 20 June 2021. There is so much evidence out there that shows how connecting with others and forming good relationships with family, friends and the wider community are important for mental wellbeing. If you are a carer in Salford you can join in our free virtual coffee mornings on the first Tuesday of every month at 11am. The next ones take place on Tuesday 6 July and 3 August. To find out more call 0161 834 6069 or email salford.carers@gaddum.org.uk.
Health and Wellbeing Factsheet
Salford Carers Coffee Mornings
If you are struggling with your mental health there are a range of support services out there to help you. Visit the Greater Manchester Mental Health services webpage to find out more.
Carers Week 2021
We would like to thank all the carers and partners that made this year's Carers Week so special and memorable. We supported carers in Salford by offering a number of activities throughout the week. These included a sunny carers walk in Peel Park, a live chat discussion with young and adult carers on our You Tube channel,  a carers wellbeing course, and some Mindfulness sessions for young carers attending Salford schools.
Every Step Cares…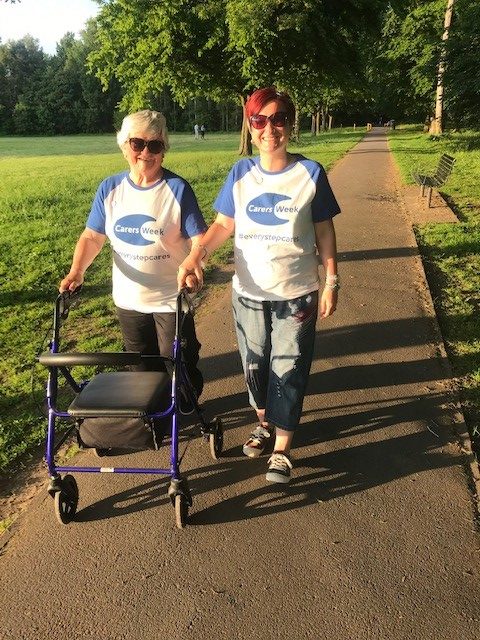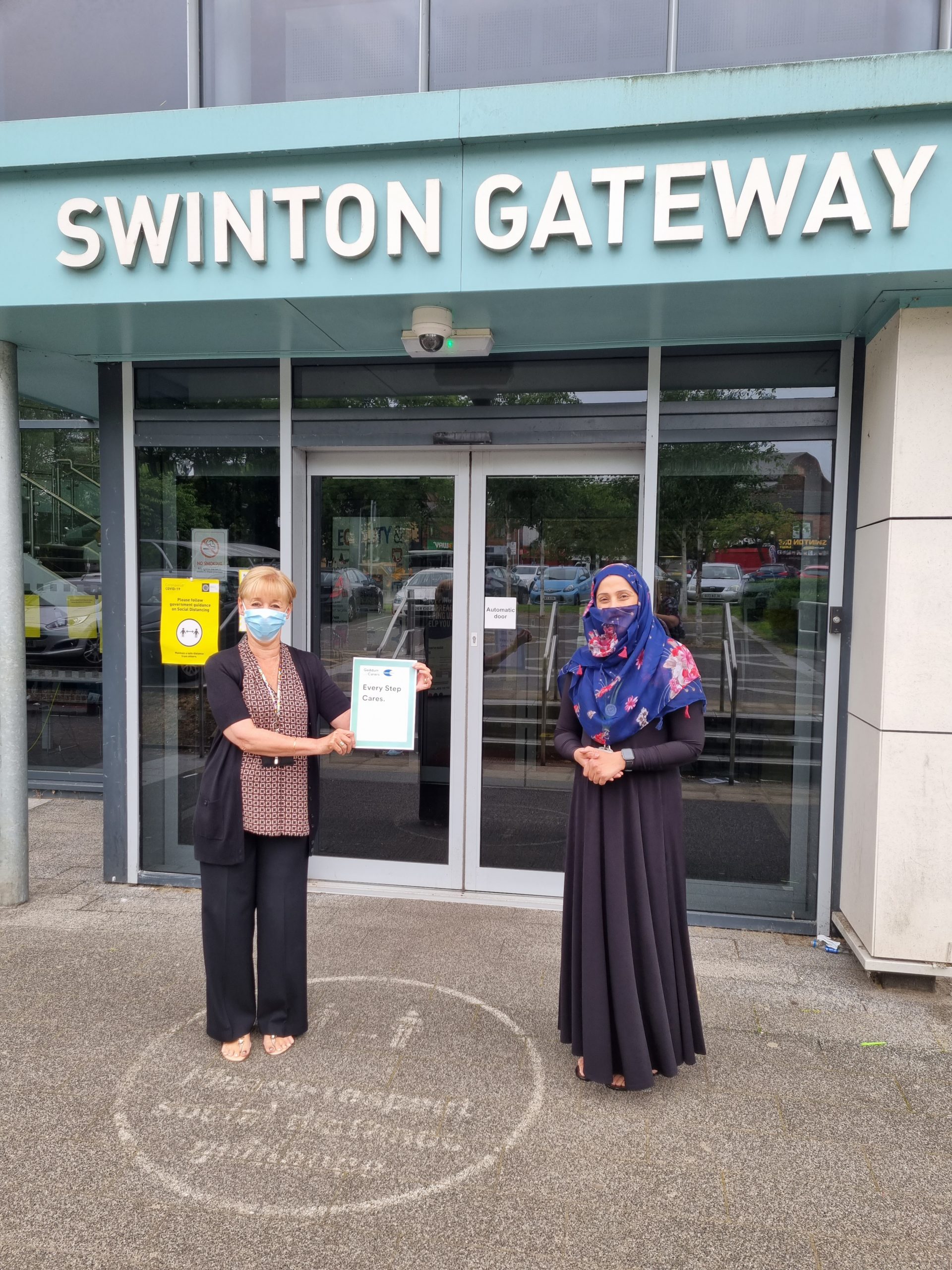 A huge thank you to all those who have taken part in our Every Step Cares campaign throughout Carers Week, walking over 500,000 steps and raising awareness of unpaid carers in Salford & Manchester. 
Special thanks to the Swinton Gateway Customer Service team, Danielle from Macc, Angela, Will and Jess from Carers Manchester, and Ann-Marie, her mum Ann and their dog Charlie for taking part.
Pete's Story
Salford carer Pete provides care to his elderly father David, who has dementia, whilst also managing his own needs around his mental health. Read his story here.
Click here for more information on our services for carers in Salford, call 0161 834 6069 or email salford.carers@gaddum.org.uk.
LGBT carers have their say…
Gaddum and LGBT Foundation have worked together to better understand the experiences of LGBT carers in England, and have created an insightful report on the findings. At the start of the project they researched what already existed in terms of LGBT+ carers support and found that little work had been done to understand the experiences of LGBT+ carers and to address their specific needs.
The evidence that does exist suggests that LGBT+ carers face a range of barriers and that their needs are often not met by services. For example, a Brighton and Hove LGBT Switchboard carer's consultation found that LGBT+ carers faced a number of issues related to their identity. There were concerns that respite care would 'not be LGBT aware and respectful' and participants were concerned that care provided in the home would not be appropriate and may not respect their dignity and wishes. It was felt that support, advice and services must be LGBT+ aware and able to respond to the concerns that carers have.
A 2011 Stonewall survey found that three in five older LGBT people were not confident that social care and support services, like paid carers or housing services, would be able to understand and meet their needs. Furthermore, 2015 research found a lack of recognition of LGBT relationships, this can be of friends as well as partners, can create conflict over who is in charge of a persons' care and who is nominated to make decisions on behalf of someone.
Young LGBT carers may also not be getting the support they need, a study of young LGBT carers in Scotland found that almost 2 in 3 said there was no person at their educational institution who recognised them as a LGBT young carer and helped them.
In order to address this gap in the evidence, LGBT Foundation and Gaddum launched a project to better understand LGBT+ carer's needs and to look at how services should be improved to better support LGBT+ carers. This involved the recruitment of an advisory panel of LGBT+ cares from across the UK, who acted as the 'experts by experience' for the project and also they decided on the content and questions of the survey before it was released, as well as reviewing the results and deciding on what they final report should look like.
Can You See Us is a new report launched by Gaddum and LGBT Foundation based on the findings of this survey and from the feedback from the LGBT+ carers advisory panel who's valuable contributions and feedback were all included in the final report.
Mental Health Awareness Week 2021
Monday 10 – Sunday 16 May 2021 was Mental Health Awareness Week and this year's theme was nature. Spending time in green space or bringing nature into your everyday life can benefit both your mental and physical wellbeing (source: Mind).
Click here to download our free nature activity booklet that has a range of activities you can do in nature including mindfulness.
The Mental Health Foundation website has some useful information about looking after your mental health during the Coronavirus pandemic.
Need to talk?
Greater Manchester Mental Health 24/7 helpline – 0800 953 0285
The Samaritans 24/7 helpline – 116 123
Shout is a text message service that can be contacted 24 hours a day, 7 days a week – text 85258.
Kooth is a service for young people which offers emotional and mental health support for children and young people aged between 11-24 years and is available up to 10pm every day.
Our staff are delivering our advocacy, carers & therapy services remotely in within our usual opening hours. To contact us by phone please call – 0161 834 6069 or email info@gaddum.org.uk.
Download these free documents from MHFA England on mental health and wellbeing:
10 Keys to Happier Living 
Tips for Self Care 
Weekly Wellbeing Check Up
Remembering Mike Dyble
Gaddum has learned of the very sad news of the death of Mike Dyble, one of our illustrious past trustees. Mike was passionate about Gaddum and the services the charity provided throughout Greater Manchester, only retiring last year after many years of distinguished service.
It was a privilege to have Mike as a fellow trustee and work alongside him, especially over these last few years of significant change. He led the successful rebranding of the charity and we're indebted to his leadership during this period.
Mike was 84, but his enthusiasm and energy belied that age, his knowledge and wisdom were only second to his humility.
Always cheerful, always polite, always fighting to give hope to those needing help, he leaves a lasting legacy which we are committed to build on.
Our thoughts and prayers are with Mike's family at this very difficult time.