Latest News and projects at gaddum

Carers Fest
Read all about our fantastic event coming in Summer 2019 here
Mood/Music project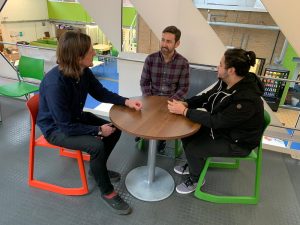 We are delighted to announce a project in partnership with Manchester Metropolitan University and gaddum. Click here for more information
Get running for gaddum
Click the image below for more information

Identifying and supporting carers in crisis-project in Salford
Read the news article by Salford Royal and our Salford Carers Service HERE
Did you know you can shop and support gaddum?
Manchester Carers Network- Carers lunch at Manchester City FC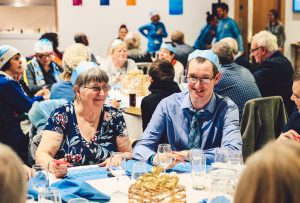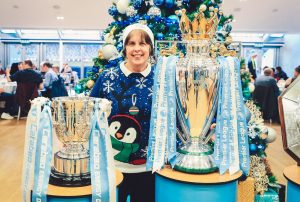 On Friday 7 December carers from across Manchester Carers Network were invited along with the person they look after to a Christmas lunch at the City Football Academy. Over 50 attendees were hosted by club and City in the Community Representatives to share in the festive fun.
Academy players Tommy Doyle, Esme Morgan, Jess Parks, Sammy Robinson and Tyreke Wilson were on hand to help serve up a wonderful three-course Christmas meal. Live music was played throughout the afternoon, with local singer Oli Ng catering for the numerous song requests that were sent his way, leading to a few spontaneous singalongs.
Following lunch the carers and their cared-for took part in a City-themed Centurions bingo. Competition was fierce with eventual winners being presented with City prizes.
Speaking on the event, Lynne Stafford, Chief Executive, gaddum said: "this event provided much needed respite to many of our unwaged carers in East Manchester. We are incredibly grateful to the Manchester City family for hosting this event".
To find out more about the network, have a look on our website or check us out on social media:
facebook.com/manchestercarersnetwork
twitter.com/carers_HUB
Or subscribe to our monthly e-newsletter – find the link on our website homepage:
www.manchestercarersnetwork.org.uk
Other news….
There is always something we are developing at gaddum. Here is our latest update:
LGBT carers-be heard!
Manchester Carers Network, a group of 21 voluntary organisations who provide information, advice and support to carers, is working with LGBT Foundation, who deliver support and information services to lesbian, gay, bisexual and trans (LGBT) communities, with an aim of understanding the views of LGBT carers and learning how they can help improve access to services, support and information that is relevant and beneficial to them as a carer
A carer is anyone who cares, unwaged, for a friend or family member who due to illness, disability, a mental health problem or an addiction cannot cope without their support. Together we are looking for views from LGBT carers or services providing support across Manchester. They want you to tell them if you think anything extra is needed for LGBT Carers besides what is currently offered by existing health, social care and LGBT services.
For further information, email Sam Palmer  or visit manchestercarersnetwork.org.uk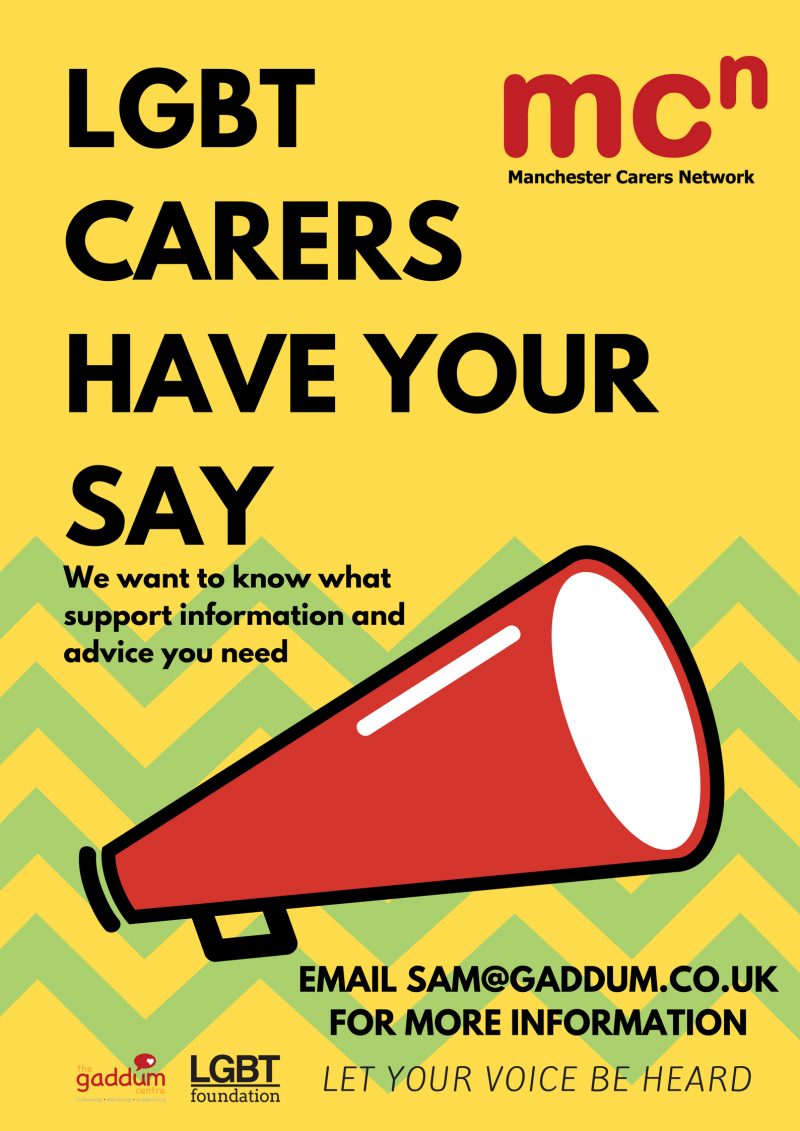 For PR/Media enquiries, please contact Charlotte Brown, PR & Comms Lead  
For general information, please contact gaddum on 0161 834 6069 or by emailing here