Coming Saturday 15 June 2019-CARERS FEST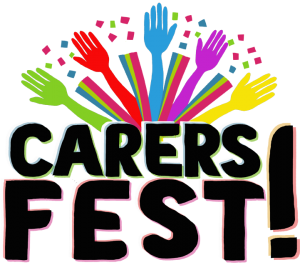 Join gaddum and a host of partner organisations from across Greater Manchester for the FIRST EVER, Carers Fest.

What is Carers Fest?
Carers Fest! provides opportunities for carers and those cared for of all ages to enjoy a break from their responsibilities, have fun, make new friends and have their voices heard on issues that affect them.
It is also an opportunity for professionals to learn about the reality of caring and make a pledge to improve health and social care in Greater Manchester and members of the public to feel informed about carers support in their area.
Activities will include live musical performances, wellbeing workshops, educational sessions, sports activities, fair events, including carers makers market. We really want to create a carnival feeling to the event to celebrate carers.
The theme for the event is BEING CONNECTED-we would really like to hear about people's personal experiences of being a carer and have created a community reporters project for the event.
When is Carers Fest?
The event will take place on Saturday 15 June at People's History Museum between 10.30am – 4pm. This event is also during national Carers Week.
How do I get involved if I am a carer?
You can now book your FREE tickets from Eventbrite.
For general enquiries please contact us
How do I get involved if I am a professional/community group?
We would love for as many organisations as possible to be involved in this event and help us spread the message that carers really do matter and also help spread the word about the great work you do. You can be involved as little or as much as you like. It might be that you can refer carers to attend, or that you'd like to deliver a workshop or host an information stall. Please do contact us to talk more.
Contact details:
Sam Palmer-Head of Carers Services / Carers Fest Manager
Tel: 0161 834 6069
Email: carersfest@gaddum.co.uk
Facebook @carersfest
Twitter @carersfest
#carersfest
Download the press release below: