Gaddum News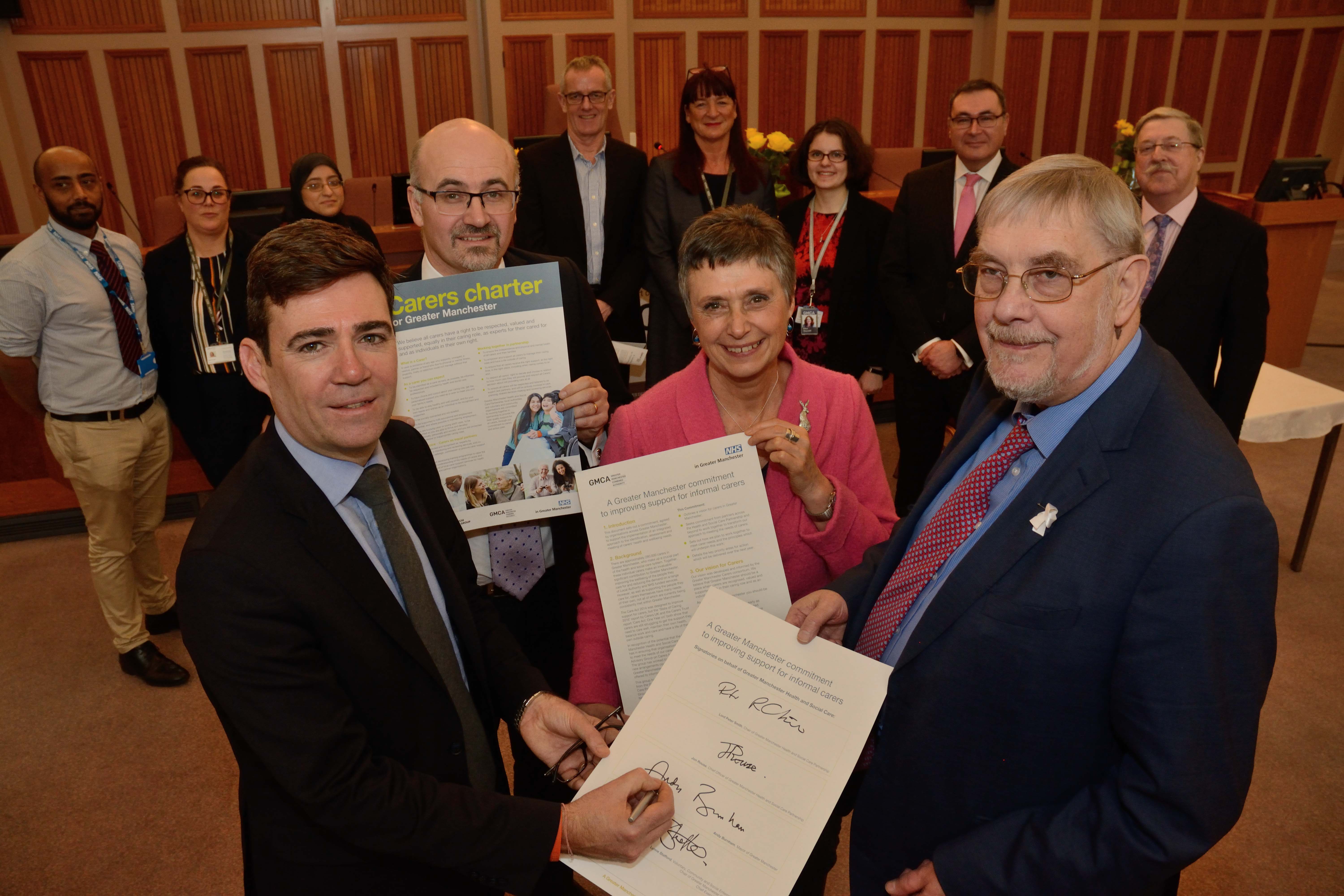 On Friday 19 January 2018 Greater Manchester made a historic and collective commitment to transform how carers are supported in their invaluable role.
The signing of a Greater Manchester Carers Charter and commitment to enhance and develop support and opportunities for carers has been led by Greater Manchester Health and Social Care Partnership – the body overseeing devolution of the area's health and social care budget.
One in ten people are known to be carers in Greater Manchester, yet there are many more who are unknown.  Identifying and supporting carers is crucial because together, these individual carers make a significant contribution to Greater Manchester by improving the wellbeing of the people they care for, but also how we  plan and deliver care to our 2.8 million population.
Out of 280,000 carers that are known in Greater Manchester, 70,000 (nearly a quarter) spend 50 hours per week as carers, higher than the national average.  24,800 (c.9%) are young carers aged under 25 which is 2% more than the average in England. Similarly, more than 100,000 (c.38%, 107,391) are aged between 25 and 49, 4% more than the national average. This directly impacts on the health and wellbeing and employment prospects of carers.
Carers, as well as supporting the people they care for, have many needs of their own, which are not always met. We want to recognise all carers, including young, adult carers and parent carers, to support them to not feel isolated, improve their health and wellbeing and give them guidance and help to access education and continue employment.
The Charter and commitment has been designed by carers and is supported by voluntary, community and social enterprise groups, councils, NHS England and NHS organisations in Greater Manchester. It builds on the aims of the Care Act 2014 and agrees to acknowledge, respect and provide support and opportunities for carers.
The Charter shows how organisations will work better together consistently to recognise and support the role of carers in Greater Manchester. It also sets out a plan for the key priority areas for action, to be delivered over the next year and the Partnership will ensure that the roles and needs of carers are recognised by commissioners in Greater Manchester.
As a carer in Greater Manchester you should be able to expect the following:
To be identified as a carer as early as possible
Better access to annual health checks and improved access to GP appointments
Access to services and activities to help stay fit and healthy
To be supported in employment
To be involved with employers in developing carers policies and for staff to be trained to be "carer aware"
If you are a young carer or young adult carer, you are able to thrive and develop educationally
Our priorities over the next 12 months will be to understand what good support looks like. Carers will be at the heart of this transformation as "experts by experience". They will be involved in reviewing, designing and checking support is fit for their needs – whether you are a young carer, older carer, parent carer, working carer or caring for someone with a long term condition such as dementia, cancer, HIV, heart and lung problems, your voice in co-designing and improving carer services matters.
Lynne Stafford, Voluntary, Community and Social Enterprise representative Chair Greater Manchester Carers Partnership said;
'So many unwaged carers across Greater Manchester are not identified or supported. Today's signing is a real partnership commitment to improving the future health and well-being of all carers and recognising the value of their caring roles.'
Lord Peter Smith, Chair of the Greater Manchester Strategic Partnership Board, said;
"Carers are a crucial – and often unrecognised – part of the health and social care system. Today's commitment shows how Greater Manchester wants to create a place where carers are valued and supported both in their caring role and as an individual. Over the next 12 months we will continue to work with carers to bring the commitments to life to ensure carers are valued and supported in the incredible work they do."
Andy Burnham, Mayor of Greater Manchester, added: "The Greater Manchester Charter is a real commitment to the people who dedicate themselves to helping others and often have to fight every day to get the help they and their loved ones need. Carers play such a vital part in the health and wellbeing of those they care for so it is only right that we should help and support them as well.
"To help enable carers to get the support they need to live their lives, or to continue or get back into work, this charter is a major step and will help everyone involved. Greater Manchester is taking a lead and is putting better support at the heart of our integrated health and social care system."
Today's Charter and commitment has been signed by Greater Manchester Health and Social Care Partnership organisations including voluntary, community and social enterprise groups. GMHSCP Carers Commitment – FINAL
Definition of a carer
A carer is someone of any age who supports, unwaged, a relative, partner or friend who due to physical or mental illness, disability, frailty or addiction could not manage without that support.
A young carer is someone aged 18 or under who helps look after a relative who has a condition, such as a disability, illness, mental health condition, or a drug or alcohol problem. Most young carers look after one of their parents or care for a brother or sister.